Looking for the best wines of Spain by region? Spain is beloved for its food and drink, particularly high-quality wine. As befitting the diverse landscapes, climates, and environments across the southern European country, Spain's wine regions produce a multitude of different wines, from the rich Tempranillo reds of La Rioja to the decadent bubbles of Cava, to the dry fortified sherry of Andalucía, to name but a few examples of Spanish vino you need to try.
Famous Wines of Spain by Region
This comprehensive guide to the most famous wine regions of Spain includes a glossary of Spanish wine terms (to help you navigate menus and wine bottles), an introduction to the different areas of Spain and the wine regions contained within them, as well as a breakdown of 15 Spanish wine regions, the grapes they are best known for and a short explanation of the region's viticulture practices.
Spanish Wine Terms – Wines of Spain
Wine of Spain Types
Vino Blanco – white wine
Vino Tinto – red wine
Vino Rosado – rosé wine
Vino Generosa – a dry, fortified wine
Spanish Wines Aging Terms
Cosecha – the direct translation is "harvest" or "vintage," but this word also refers to wines with no aging requirement.
Joven – a "young" wine that has not spent time, or has only spent very little time, in a barrel.
Roble – meaning "oak," this indicates a Joven wine that has spent a little time in a barrel.
Añejo – a "mature" wine that has been aged for two to three years.
Viejo – an "old" wine that has been aged for at least three years.
Crianza – red wines that have been aged at least two years, six months of which must be spent in a barrel; and white or rosé wines that have been aged for a minimum of a year, of which six months must be in a barrel. 
Reserva – red wines aged for a minimum of three years with at least 12 months in a barrel, or white and rosé wines aged for a minimum of two years with six months in a barrel.
Gran Reserva – red wines that have been aged for five years with at least 18 months in a barrel, or white and rosé wines aged for a minimum of four years with at least six months in a barrel.
Spanish Wines PDO Categories
Vino de la Tierra (VT) – "country" wines with identifiable local characteristics. 
Vino de Calidad (VC) – a "quality" wine category denoting wines produced in a particular region with quality and reputation due to the environment.
Denominación de Origen (DO) – a protected designation of origin area (second-highest classification).
Denominación de Origen Calificada – a denominations of qualified origin with strict standards, including at least 10 years with DO status (highest classification).
Vino de Pago – highly regarded single-estate wines where all viticulture from growth to bottling takes place on the estate.
Other Spanish Wine Terms
Bodega – a winery or wine cellar
VOR – an abbreviation for Vinum Optimum Signatum (Very Old Sherry), which refers to sherry wines with a minimum aging of 20 years.
VORS – an abbreviation for Vinum Optimum Rarum Signatum (Very Old Rare Sherry), which refers to sherry wines with a minimum aging of 30 years.
Conejo Regulador – the administrative body that regulates viticulture and winemaking practices in each Spanish wine appellation, setting quality controls, proof of origin and aging regimens.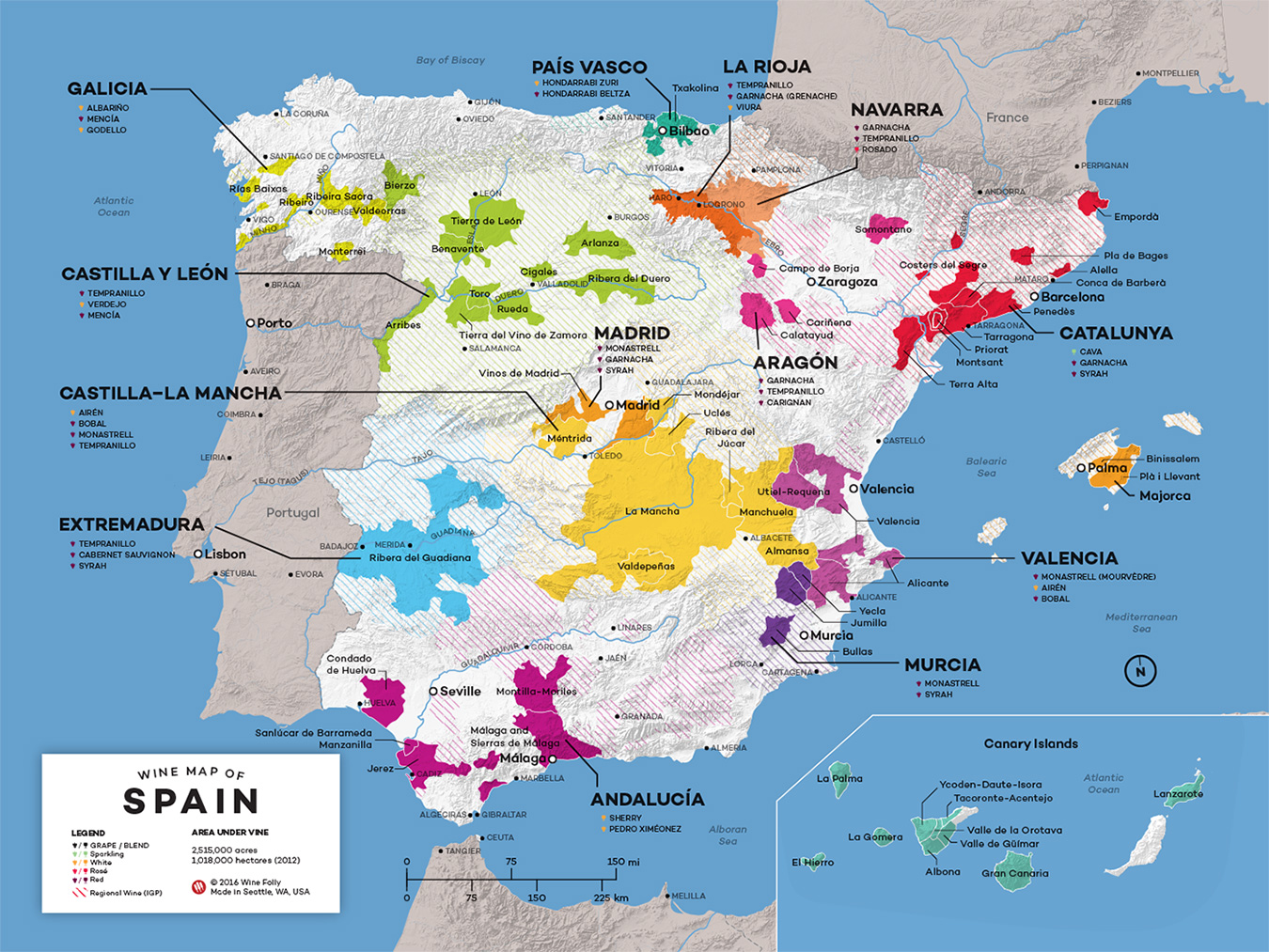 15 Spanish Wine Regions – Wines of Spain
Spain is home to 138 officially designated wine regions over seven very different climates, resulting in a diversity of wines.
Northwest Spain, or "Green" Spain is known for mineral-heavy, zesty whites, though some tart and aromatic Mencía reds are also common. The Ebro and Duero River Valleys are mainly known for Tempranillo wines. The Northern Mediterranean Coast is prime grape-growing ground, host to a variety of grape types, though the coast's Cava is probably the most famous.
The Southern Mediterranean produces fruit-forward reds, such as Monastrell (also known as Mourvèdre) and Bobal. Spain's Meseta Central (central plateau) is where you'll find the capital, Madrid, as well as a lot of white Airén, due to the high elevation and sunny, dry climate.
Andalucía, the far south of Spain, is the home of sherry. Finally, Spain's islands, including the Canary Islands off the west coast of Northern Africa, offer gritty and rustic reds and sweet whites, due to the volcanic soil. 
1. País Vasco
Best known for Txakoli
País Vasco, or Spanish Basque Country, is perched on the border with France, and the region is renowned for its food and drink scene. The Atlantic climate, generous rainfall and high-quality seafood are all aspects that lend themselves well to locally-produced Txakoli white wines, which have a saline tinge and are mostly made from grapes such as Hondarribi Zuri and Hondarribi Beltza.
2. Galicia
Best known for Albarino
Like País Vasco, the northern wine region of Galicia has an Atlantic climate and enjoys more rain than much of the rest of Spain. Due to the abundance of fresh fish and seafood, it's unsurprising that Galicia is renowned for mostly white wines and some terroir-driven reds, many produced using responsible farming methods. Signature grapes include Albarino, Mencia, Godello and Treixadura.
3. Castilla Y León
Best known for Viura and Tinto Fino (Tempranillo)
Central Spain's Old Castile is famous for gothic castles and cathedrals, which reflect the region's rich history. This area has a long wine-producing legacy, but in more modern times has been divided into 11 quality wine sub-regions, with the best known being Ribera del Duero.
Located along the Duero River, the award-winning wine region of Ribera is critically acclaimed, with the majority of production focused around Tinto Fino (Tempranillo), which is sometimes blended with Malbec, Merlot and Cabernet Sauvignon. Other signature red grapes include Garnacha and Tinto, plus Albillo for whites (though the white wines are mostly for local consumption).
4. Navarra
Best known for rosé and red wines
Situated in the Ebro River Valley, close to the powerhouse wine region of La Rioja, Navarra is noted for many different varieties of red, but also fine rosé wines. The climate here means that winters are very cold and summers very long, hot and dry, which means a smaller grape yield in comparison to other Spanish wine regions, but a consistency when it comes to quality.
5. La Rioja
Best known for Tempranillo blends
Located in North-Central Spain, next to the Ebro River, La Rioja is probably the country's most well-known wine region. Tempranillo grapes are blended with Graciano, Garnacha, Mazuelo and Maturana Tinta (or sometimes non-traditional grapes, such as Cabernet Sauvignon) to produce sweet wines with rich, sour and elegant flavors.
6. Aragon
Best known for Carinena and Garnacha
Aragon's continental climate provides extremely hot summers counterbalanced by very cold winters, with very little rain. These conditions produce robust, high-quality wines with high alcohol content. Aragon is the home of the red Garnacha (Grenache) grape and the white Parellada grape (used in the production of Cava).
7. Catalunya
Best known for Cava
Catalonia's microclimates range from the coastline to the inland hills, producing many different grape varieties. However, the most famous has to be Penedès' Cava, which is Spain's equivalent to French Champagne and Italian Prosecco. This sparkling white is made using indigenous grapes, such as Macabeu (also known as Viura), Parellada and Zarello, which provide a more savory finesse.
Other wines to enjoy from this region include the red wines of Priorat, which is a plot of land with steep terraces that was destroyed by Phylloxera, but has gone on to produce critically-acclaimed vino tinto. Carignan and Garnacha are the fruity grapes to look out for, often blended with Syrah, Cabernet Sauvignon and other varieties.
8. Madrid
Best known for Tinto Fino (Tempranillo)
Although Madrid proper is the capital city of Spain, the Vinos de Madrid DO includes all vineyards surrounding Madrid, many of which can be easily accessed via a day trip from the city. The continental climate and varying soil types lend themselves well to the production of grapes such as Albillo, Garnacha, Airen and Tempranillo, known locally as Tinto Fino.
9. Catilla-La Mancha
Best known for Tempranillo and Garnacha
In the heart of Spain lies Castilla-La Mancha, the country's largest wine region, home to hundreds of wineries and tens of thousands of grape-growers. 
La Mancha may be most famous as the backdrop for Don Quixote, the epic by Miguel de Cervantes (think Iberian plains, undulating mountains and scenic windmills), but this vast expanse of land also cultivates unctuous and full-bodied wines. Signature grapes include Alicante Bouschet, Macabeo, Airen and Cencibel (Tempranillo).
10. Extremadura
Best known for small-production Tempranillo and local grape varieties
This unassuming wine region in western Spain is lesser known, but a visit here offers an escape into nature. Extremadura's lakes, forests and mountains are home to a multitude of wildlife species, and though wine production is not on an international scale, there are a few winemakers based here. 
Tempranillo is the main grape grown, though local grape varieties such as Cayetana are also cultivated. Other signature grapes include Tinta Amarela, Alicante Bouschet and Albillo. However, one of Extremadura's biggest contributions to the Spanish wine production is quercus suber (cork).
11. Valencia
Best known for Moscato
Valencia is one of the country's oldest wine regions, as grapes have been grown here since Neolithic times. Although located on the east Mediterranean coast of Spain, the majority of the vineyards are nestled deep inland, making the most of the limestone-rich soil that provides perfect conditions for Moscato grapes. Think earthy reds and rich white wines (arguably best enjoyed with a generous serving of local paella).
12. Murcia
Best known for Monastrell (Mourvedre)
Murcia is as well-known for its robust, bold, fruit-driven red wines as it is for tomato and citrus production, making this wine region a true gastronomic adventure. Signature grapes include Cabernet Sauvignon, Airen, Macabeo and Monastrell (the Spanish name for Mourvedre).
13. Andalucía
Best known for Sherry
Seaside getaways, fresh seafood and passionate flamenco dancing, Andalucía is full of cultural riches, especially when it comes to fortified wines – something very different from the wines produced in the rest of the country. Salty, dry Sherries to try include Fino and Manzanillo. Signature grapes include Moscatel, Pedro Ximenez and Palomino.
Interestingly, the name sherry refers to the coastal region of Jerez and goes by the names jerez, xéres, and sherry, with sherry being the most common in English, Spanish and French, making it a multilingual word.
14. Majorca
Best known for Chardonnay and Merlot
The Balearic Islands are better known for nightlife, resorts, and summer holiday destinations than for wine, but it may surprise you to know that the region has a far-reaching legacy when it comes to viticulture – wine has been produced here since 120 BC.
Of the four main islands (Majorca, Menorca, Ibiza and Formentera), Majorca is your best bet when it comes to wine. Production is small, with only a handful of local white varieties cultivated, as emphasis is on international grapes, such as Chardonnay and Merlot. These young, aromatic wines are meant for easy drinking. The islands also produce some artisanal spirits and liqueurs, including absinthe and gin.
15. The Canary Islands
Best known for Listan Blanco (Palomino) and Listan Negro
The Canary Islands, an archipelago located in the Atlantic Ocean, lie around 70 miles off the coast of northwest Africa, closer to Morocco than to Spain. The salty sea air and mineral-rich volcanic soil are conditions that result in saline-tinged whites made from Listan Blanco (Palomino) and aromatic, ashy reds made from Listan Nego. Other common grape varieties grown include Malvasia and Tintilla.
More Spanish Wine Varieties – Wines of Spain
I don't know about you, but after all that I need a glass Spanish wine to help digest this wealth of information. Here's to hoping that this guide to Spain's wine regions has helped you plan your future vino voyage to the country or to explore the flavors of Spain from the comfort of your own wine glass.
If you have any recommendations for Spanish wineries to visit, Spanish wines to try, or any other suggestions to add (or to let us know that you found this guide helpful), then let us know in the comments.