After doing some research, I didn't realize that there are so many Raising outstanding women in wine in Ontario. The global wine industry has long been male-dominated, but there are so many talented and creative women making waves in viticulture who deserve recognition. Nowhere is that more apparent than in Ontario, Canada from Lake Erie North Shore, Niagara on the Lake wineries, and Prince Edward County.
Women and Wine in Ontario, Canada
This guide to women in the wine industry in Ontario raises a glass to female winery founders, proprietors, winemakers, and other professionals in the wine industry. Information includes a brief overview of each of the Ontario wineries featured, their locations, and what they are known for, as well as the women behind the wine.
Let's Raise Our Glasses to Women and Wine
1. Lydia Tomek, Ravine Vineyard Estate Winery

Niagara's Ravine Vineyard Estate Winery is part of a fifth-generation family farm that also includes organic vineyards, an award-winning dining venue, a grocery store, kitchen gardens, event spaces, and more. The wine collection here is comprised of Riesling, Merlot, Cabernet Franc, Sauvignon Blanc, Chardonnay, and Gewürztraminer, as well as sparkling wine, Icewine, and cider (apple, peach, and pear).
Head Winemaker at Ravine, Lydia Tomek first started her winemaking journey by completing Brock University's Cool Climate Oenology and Viticulture Degree Program, writing her thesis on Viticulture. After graduating in 2003, Lydia developed her craft at several Niagara wine estates, as well as developing Norfolk's emerging wine region making appassimento wines at Burning Kiln. Today, she leads Ravine's organic winemaking efforts.
---
2. Amélie Boury, Chateau des Charmes
Chateau des Charmes is a fifth-generation French winery located in Niagara-on-the-Lake, run by the Bosc family. It was the first commercial vineyard in the country to open to visitors. This winery is noted for high-quality wines, some of which are made using European Vitis vinifera grapes. Chateau des Charmes also produces a famous Icewine.
Amélie Boury is the Vice President of Winemaking & Operations at Chateau Des Charmes. She holds a Masters in Biotechnology from Institut Sup'Biotech de Paris (specializing in grapevine and yeast genomics), as well as a Diplome Natrional D'oenologue from the University of Montpellier.
After experience in cool climate winemaking in Alsace, France, Amélie worked with the Wine Research Center at University of British Columbia. Upon introduction to the Canadian wine industry, she fell in love with the country and made Canada her home.
Amélie started working with wine industry pioneer Paul Bosc, who quickly recognized her passion for new world wines and talent for winemaking. In 2013, Amélie was named Winemaker and Director of Oenology, then in 2016 she was promoted Vice President, reflecting her leadership in the wine industry.
---
3. Emma Garner, Thirty Bench Wine Makers
Thirty Bench Wine Makers in a small craft winery that produces "Small Lot" wines on the Niagara Escarpment's Beamsville Bench. One of the most awarded Ontario wineries, Third Bench has been producing Rieslings since 1980, but today boasts a diverse portfolio comprised of nine grape varieties.
Thirty Bench winemaker Emma Garner studied Oenology and Viticulture at Brock University, which her the opportunity to travel around France, Germany, Australia and New Zealand, as well as British Columbia, to learn about wine.
After graduating, Emma focused in on the vineyards and wineries of the Niagara area, working at Trius Winery and then Thirty Bench, becoming Winemaker at Beamsville Bench in 2010.
Emma specializes in Rieslings and has a signature method of fermentation at low temperatures, which results in complex, aromatic wines. In 2015, she was named Winemaker of the Year at the Ontario Wine Awards.
---
4. Allison Findlay, Flat Rock Cellars
The five-tiered winery of Flat Rock boasts 360-degree views out to Lake Ontario and the Toronto Skyline, situated along the Niagara Escarpment. Founded and operated by Ed Madronich Senior, the best wines to try here are the famous Chardonnay, Pinot Noir, and Riesling varieties.
Flat Rock Cellar's Allison Findlay started out as a tourist visiting Niagara's wineries, which inspired her to get into the wine industry. Upon completion of a Bachelor's in Biology from Lakehead University, Allison completed a Winery and Viticulture Technician program at Niagara College.
Allison grew her experience in winemaking both locally and internationally before settling into her current position as Assistant Winemaker at Flat Rock Cellar's Twenty Mile Bench, specializing in terroir-driven wines.
---
5. Sherry Karlo, Karlo Estates
Karlo Estates is a sustainable winery located in the southwest of Prince Edward County. The winery is passionate about producing high-quality wines while also respecting the planet and reducing carbon impact.
Karlo was named the world's first vegan certified winery in 2008, officially accredited by VegeCert. The old world wines produced here are done so with an artisanal approach; hand-harvested and naturally fermented with minimal intervention.
Sherry Karlo and her late husband Richard Karlo founded Karlo Estates together and built the winery into an award-winning and critically-acclaimed business. As Karlo Estates' Vintner, Sherry curates the winery's portfolio and also uses her 25 years' entrepreneurial experience to package and market the wine.
---
6. Angela and Melissa Marotta, Two Sisters Vineyards
Located at the northern tip of the Niagara River sub-appellation, which borders the Niagara River and Lake Ontario, the award-winning Two Sisters Vineyards is run by sisters Angela Marotta and Melissa Marotta-Paolicelli.
Two Sisters' estate is spread across 60 acres: 20 acres of fragrant Merlot, 20 acres of earthy Cabernet Franc, and 20 acres of rich Cabernet Sauvignon. Winemaker Adam Pearce curates the wine portfolio with a non-interventionist approach, while Chef Christine Mast serves Italian-inspired cuisine at the winery's Kitchen76, with dishes created in tandem with Two Sisters' vintages.
---
7. Nadia Senchuk and Ace Ferris, Leaning Post Wines
Leaning Post is a terroir-driven winery that focuses on small-scale, artisanal winemaking in unique plots of land across the Niagara region. Founded by Nadia and Ilya Senchuk in 2009, wines to try here include Riesling, Chardonnay, Pinot Noir, and Syrah.
Nadia's background was originally in commercial banking, but she later pivoted to operations at a local manufacturing company. After founding Leaning Post, Nadia became a certified sommelier and also holds a WSET Level 3 Award in Wines.
Nadia and Ilya are supported by Assistant Winemaker Ace Ferris, who studied Food and Beverage Management at George Brown College before completing the Winery and Viticulture Program at Niagara College. Having worked exclusively in the Niagara region, Ace is an expert in this unique terroir.
---
8. Caroline and Maggie Granger, Grange of Prince Edward Vineyards and Estate Winery
A mother-daughter winery focused on "wild wines" which each tell a story, Grange Winery produces Pinot Noir, Chardonnay, Pinot Gris, Gamay, Riesling, and Sauvignon Blanc.
Returning to the family farm with her three young children after 20 years away from home, Caroline Granger decided to reconnect with her roots and started growing grapes on the family's farmland. Today, the winery is run by both Caroline and her daughter Maggie, who grew up among the vines.
Grange Winery focuses on natural ecosystems, vine health and simple processes.
---
9. Carolyn Hurst, Westcott Vineyards
Jordan Station's Westcott Vineyards encompasses two Niagara locations: the 40-acre "Home Farm" in the Vinemont Ridge appellation and the 43-acre Butlers' Grant Vineyards at the Twenty Mile Bench sub-appellation.
Carolyn Hurst is the President of Westcott Vineyards and runs the winery with the same entrepreneurial acumen that made a success of three companies she headed in the Information Technology Industry. Carolyn and partner Grant Westcott, both passionate oenophiles, decided to "retire" into winemaking in 2008 and produced their first Westcott vintage in 2012.
---
10. Heidi Fielding, Fielding Wines
Fielding Estate Winery is a family-run wine business led by husband and wife Curtis and Heidi Fielding, comprised of two vineyard locations: Field Vineyard at Beamsville Bench and Tufford Road Vineyard at Lincoln Lakeshore.
Fielding Estate produces premium quality single-vineyard VQA wines, including Riesling, Pinot Gris, Gewürztraminer, Chardonnay, Merlot, Cabernet Franc, and Pinot Noir, plus red blends.
Heidi Fielding is Director of Sales and Marketing for Fielding Wines, a role that focuses on creating memorable experiences for guests of the winery. Heidi first started working in the wine industry in 2001, then joined Fielding Estate Winery in 2005. She is the winner of a 40 under 40 award and also was a finalist in the Young Farmers of Canada.
---
11. Nicolette Novak, The Good Earth Food and Wine Co.
Established in 1998, Lincoln's The Good Earth Food and Wine Co. started out life as a farm, then transformed to include a cooking school, then started producing wines with the help of Flat Rock Cellars in 2008.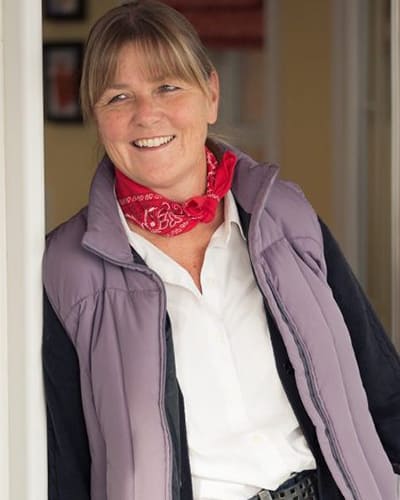 Proprietor and "Facilitator of Fun" Nicolette Novak is a Niagara native who inherited the farm from her father after his sudden passing in a car accident, putting her own stamp on the land by creating The Good Earth cooking school and winery. Her strong foundation in agriculture helps to build incredible food and wine experiences for visitors.
---
12. Catherine Langlois, Sandbanks Estates Winery
Founded by Catherine Langlois in 2001, Prince Edward County's Sandbanks Estate was established with the vision of producing quality, award-winning wines at affordable prices, paired with delicious food.
Catherine started with seven acres of Baco Noir, Cabernet Franc, Riesling, Pinot Noir, Vidal, Geisenheim, and Marechal Foch, producing 150 cases of Baco Noir in 2003. Later, she opened a wine boutique in the basement of her home, then expanded to build the Sandbanks Winery wine boutique, tasting room, private barrel room, and tasting bar.
In 2020, Sandbanks was bought by ARTERRA Wines Canada.
---
13. Mackenzie Brisbois, Trail Estate Winery
Trail Estate is a minimalist, small-batch winery located in Prince Edward County. Wines produced include Baco Noir, Pinot Noir, Riesling, Chardonnay, Gewürztraminer, and a Pinot Noir rosé, with unique takes including skin-ferment Riesling, orange wine, Pét Nat sparkling and unfiltered Chardonnay.
Winemaker and Vineyard Manager Mackenzie Brisbois has a strong international background in winemaking, having worked in South Africa's Bouchard Finlayson and Sumaridge wineries, and at New Zealand's Central Otago Wine Company. Formerly of Norman Hardie and Chateau Wolff wineries, she has now settled at Trail Estate.
Mackenzie has completed both an Arts and Science program at the University of Guelph and a Winery and Viticulture Technician program at Niagara College.
---
14. Kelly Mason, Domaine Queylus
Founded by Gille Chevalier in 2010, Domaine Queylus is a Niagara Escarpment winery that specializes in cool climate wines, such as Pinot Noir, Chardonnay, Cabernet Franc, and Merlot.
Head Winemaker Kelly Mason started her career in wine with an internship at Saintsbury Winery in the Carneros sub-region of Napa Valley. After completing studies in winemaking at Brock University, she worked at Tawse Winery and Le Clos Jordanne, focusing on Chardonnay and Pinot Noir.
Kelly joined Domain Queylus in 2013, rising to Head Winemaker in 2018. She also owns and farms Mason Vineyard's Chardonnay, Pinot Noir, and Cabernet Franc at Twenty Mile Bench.
---
15. Louise Engel, Featherstone Estate Winery
Located at Twenty Mile Bench, the eco-friendly and award-winning Feather Stone Estate Winery was founded by husband and wife team David Johnson and Louise Engel in 1999.
They met while David was studying agriculture at the University of Guelph and Louise was studying business. David leads the winemaking, while Louise runs the administrational side of the winery and also plans events.
---
16. Christina Brooks, Back 10 Cellars
Back 10 Cellars is the dream of Andrew and Christina Brooks, who were inspired to start their winemaking adventure when they attended a wine tasting at a small Calgary vineyard in 1999. In 2001, Andrew took a Sommelier class but was laughed at for aspiring to own his own vineyard one day.
Despite having no experience in agriculture, the couple bought the 10-acre Beamsville property in 2005, though it took 10 years to produce their first bottle of wine. Their "Small Lot" wines include Pinot Noir, Chardonnay, Pinot Noir, Cabernet Franc, Gamay, and Riesling (including sparkling), plus rose blends. Back 10 Cellars also produces honey and soy wax candles.
Christina published To Build a Vineyard in 2016, which details the journey she and her husband went on to establish their winery.
---
17. Renata Roman, Rosewood Estates Winery
Niagara's Rosewood Winery crafts honest, low-invention wines, as well as mead, honey, and candles. Founded by Eugene and Renata Roman, the winery started out in 2003 with the 10-acre Renaceau Vineyard at Beamsville Bench, then expanded to include Twenty Mile Bench's 20-acre Blackjack Vineyard in 2008. The vineyards adhere to environmentally sustainable practices and Rosewood's philosophy is "Earth to Bottle."
18. Allison Christ, Colio Estate Wines
One of Ontario's first established wineries, Colio was originally founded by a team of three Italian bricklayers! Located on Lake Erie North Shore, Colio produces a number of estate and limited edition wines, including blends, Icewine, and sparkling wines. The Girls' Night Out product line has won multiple awards.
Colio winemaker Allison Christ studied Chemistry and Mathematics at the University of Windsor, then developed her wine career by gaining harvest experience at both large and small wineries, later becoming President of the Windsor Essex Chapter of the Ontario Wine Society.
---
19. Andrea Kaiser, Reif Estate Winery and Monastery Cellars
Andrea (Drea) Kaiser's passion for local food and wine was born from being the daughter of winemaker Karl J. Kaiser who is now hailed as the pioneer of modern winemaking in Canada. She was most fortunate to have had a front row seat to the re-birth of a cottage industry and witnessed it grow to become a global competitor.
Her roots in Niagara led her to a life-long career in wine, hospitality, and tourism as a restauranteur, winery estate manager, educator, marketer, writer, and now winemaker, with the launch of her own personal wine brand Drea's Wine Co. which pays tribute to her father.
Andrea is now credited as a leader in winery tourism and marketing and has grown multiple businesses as well as contributed to the advancement of her industry. She is currently chairperson of the marketing cooperative Wineries of Niagara-on-the-Lake and Ontario's Sustainable Winemaking Certification program and also serves as an Executive Board Member of Ontario Craft Wineries. For ten years, Andrea taught at the Canadian Food and Wine Institute at Niagara College, specifically courses in business management, tourism, marketing including branding and public relations, all with a focus on the wine industry.
Her own wine studies included sommelier training and travels abroad to wine regions like Napa, Bordeaux, Friuli, the Douro Valley, and Okanagan. Andrea continues to learn and expand her horizons at any opportunity and when time permits she loves to write and has published articles about what else, but local food and wine.
20. Suzanne Janke, Stratus Wines
Born and raised in the Niagara Peninsula, Suzanne's passion for agritourism ignited with her first summer job at a prominent Niagara-on-the-Lake market that focused on selling local farm products to international visitors. There, her intrigue with clients from Asia propelled her to spend three years working in Japan and Korea after completing her degree in Business Communications.
Excited about the evolution of Niagara's culinary and wine potential, she returned home and has dedicated her career to the growth of Niagara's wine industry from a visitor, cultural, and consumer perspective – first as the Director of Tourism Marketing at Chateau des Charmes where she developed the wineries visitor and events program; and since at Stratus Vineyards where she was recruited in 2005 to be part of the opening management team. In her current role as Estate Director of Stratus, she is responsible for the retail, digital, hospitality programs and revenue, media and public relations as well as product, packaging sustainability, and partnership initiatives.
Known for her thorough understanding of Niagara's wine evolution, progressive thinking, and global vision, Suzanne actively participates on numerous industry committees and boards and has served as Board Chair for Ontario Tourism Marketing Partnership, Wineries of Niagara-on-the-Lake, and the International Cool Climate Chardonnay Celebration.
---
21. Ann Sperling, Southbrook Vineyards
Considered a leading force in the Canadian movement towards organic and biodynamic fine winemaking, Ann has over two decades of experience in winegrowing, winemaking and consulting for successful winery startups.
Ann prefers to think of herself as a "Winegrower," instead of a winemaker. This vineyard-centric ideology is passionately applied to every facet of Southbrook's winemaking philosophy, including its organic and biodynamic grape-growing practices, and gentle handling in the winery.
Ann's roots are deeply embedded in the terroir of winegrowing. Raised on a family vineyard in Kelowna, BC, Ann began early on recognizing, developing and appreciating the fine balance within the characteristics of the fruit and its effects on wine. She completed her Food Sciences degree at UBC and has continued her path of learning and exploration since she entered the wine industry full-time in 1984.
Ann's talents were recognized in the early nineties when her 1992 Merlot won medals in every competition it was entered in, taking the Gold medal at the International Wine and Spirits Competition in the UK and Platinum at the Okanagan Wine Festival. Ann's particular pride in this success is that Merlot has since become a more widely planted grape variety in the Okanagan Valley.
Ann has played pivotal roles in the start-ups of both B.C.'s CedarCreek winery and Niagara's Malivoire Wine Company—where Pinot fans will remember she oversaw the conversion of the Moira Vineyard to organic.
In 2004, Ann was awarded with Winemaker of the Year at the Ontario Wine Awards.
Add to all this her various consulting projects and her own ancient Malbec vineyard in Mendoza and you'll start to get an understanding how Ann loves to spend her time—immersed in the creation of fine wines!
---
22. Magdalena Kaiser, Wine Marketing Association of Ontario
Magdalena Kaiser has been in the wine industry her entire life as the daughter of the late Karl Kaiser, who is considered the grandfather of Canadian winemaking and was the co-founder of iconic Inniskillin Wines.
Born into a life of wine, Magdalena began working at the winery as a young teen and has fond memories of bottling wine at home with her father at the early age of five. With over 35 years of experience in wine, culinary tourism, hospitality, and marketing both domestically and internationally, she brings passion and expertise to the industry she loves.
She is a lifelong promoter of local wine and gained international marketing expertise having lived in the U.S. for 10 years. As the Director of PR at the Wine Marketing Association of Ontario for over a decade, she proudly showcases Ontario VQA wines to top media and trade from home and abroad.
Magdalena regularly organizes masterclasses, speaks, presents, and has served as an expert resource for publications such as The Wine Bible, Wineanorak.com, World of Fine Wine, Wine & Spirits Magazine, Maclean's Wine in Canada, and Decanter to name a few. She is WSET certified, and her enrollment in the Master of Wine program has pushed her to dig even deeper into the world of winemaking. Propelled by a passion rooted in food and wine and a desire to keep learning, her "tiny" hands-on winemaking side project was born.
Tiny Batch Wine came to be in the fall of 2017 as an homage to her late father, beginning with experiments conducted in her garage. In 2018, she chose to make Gamay noir, as it was one of her first loves. Gamay has always been close to her heart since her father started producing it as a single varietal wine in the early 1980s. In 2019, she was fortunate to find a very tiny amount of blaufränkisch, making a nod to her heritage, having immigrated from Austria with her parents when she was two.
That same year, curiosity and determination to push boundaries motivated her to create a skin-fermented orange wine 'vin orange' from gewürtzraminer, one of Ontario's first since the official inception of the category into the VQA appellation in 2017. Magdalena quite simply refers to her tiny batch wine project as – a quest.
---
23. Melissa Muscedere, Muscedere Vineyards Estate Winery
Muscedere Vineyards is a family-owned and operated vineyard and winery located in Harrow, Ontario on Ontario's Lake Erie North Shore. The vineyard is nestled on a picturesque 163-acre family farm, with 83-acres of Natural Carolinian Forest.
All grape varieties from their 13-acre vineyard on-site are hand-harvested to create small hand-crafted lots that allow them to treat each variety, in every vintage, with the utmost of attention and care, to ensure true varietal character in each wine they release.
Melissa is the youngest of the three Muscedere siblings and manages the day-to-day operations at the winery alongside her two brothers and parents. The family vineyard was planted in her teenage years, thus she grew up among the grapes and her passion in wine grew over the years like the delicate vines.
Currently, Melissa is the president of the Essex Pelee Island Coast Winegrowers Association in Lake Erie. Melissa's hands-on experience in the vineyard, assisting in making wines on-site, and traveling to wine regions around the world continue to fuel her love of wine and the terroir where it's grown.
---
24. Liz Lacey, Lacey Estates Vineyard & Winery
Lacey Estates winery established in 2003 is a family-run vineyard and wine business led by husband and wife Kimball and Liz Lacey. Located in beautiful Hillier, Prince Edward County. The emphasis is on small batch unique wines such as skin fermented gewurztraminer, orange wine, sparkling and full-bodied Chardonnays.
Liz Lacey is the head of marketing and sales. Started working in their vineyard in 2003 alongside her husband and was also assisting in the wine-making process from start to finish. The tasting room was opened in 2009. Liz focuses on creating one-of-a-kind experiences collaborating with local producers.
Women and Wine Conclusion
There are so many wonderful women in wine in Ontario that I am sure I have missed someone. Is there someone that you can think of that should be added to this list? Who are some of your favourite women in wine?
You may also enjoy: